The Linux Rain is Now Brave Verified ✔
By
Andrew Powell

, published 19/01/2021 in Announcements
---
For those of you using the Brave web browser, I'm pleased to report we (The Linux Rain) are now Brave Verified.
What does this mean? Well if you're using Brave, you're probably familiar with Brave Rewards, BAT (Basic Attention Token) and all that entails.
So with being a Brave Verified Creator, we can now accept BAT Tips. For those of you who allow Brave Rewards Ads, these will also run in place of the existing Google Ads on the site, and this is far less intrusive due to the way Brave's ads work (i.e notifications system rather than being amongst the web content. Yay!).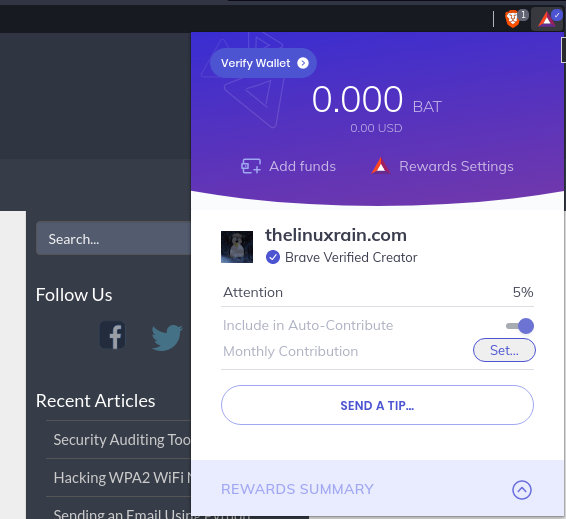 Ultimately, if you're not using Brave this means absolutely nothing will be different, but if you are, you have the choice to send a Tip or just browse with Brave ads enabled and it will help us out.
Or do nothing, allow nothing, and that is fine too. Anything The Linux Rain makes through Google AdSense or Brave Rewards only contributes to help keep it running. I expect most of our readers would be running some sort of ad blocking software, and honestly I would encourage it.
Brave, however, does seem to have a better model for advertising and at least offers alternatives to the status quo.
P.S. Personally, I'm still not comfortable even having Google Ads on the site. Yes, most people would block them, but the fact it generates any revenue and has helped keep the site afloat shows that not everyone does. This means they are subject to tracking and all the wonderful (sarcasm) consequences of that. I would love to completely remove Google Adsense from this site, but it's a matter of replacing it with something better that ultimately helps fund the site. I will keep dwelling on this, but if anyone has any comments/suggestions, please leave them below.
---