New Simple Scan Designs Emerge; Seeking Devs to Implement Them
By
Andrew Powell

, published 17/05/2017 in Development
---
Simple Scan is one of my personal favourite and perhaps even one of the "essential" apps on the Linux desktop for me. It does what it says on the tin: it's simple and it scans, with a nice preview system and enough options to be decently functional. Some new designs for the app have emerged and they are looking quite nice indeed.
GNOME UX designer and Red Hat Desktop Team Member, Allan Day, showed the new mockup designs off in his blog post. Simple Scan has a pretty sparse and simplistic interface already, and I mean that in a positive way, but Allan believes that "just because it's great, doesn't mean it can't be improved" and that most of the improvements are simply "refinements", rather than major overhauls, in order to make some of the app's functions a bit easier to discover and navigate.
Changes range from refinements to the default "ready to scan" state, all the way to the introduction of a sidebar that allows selecting individual scanned pages as well as an action bar at the bottom of the app for performing selected functions on the current page scan, such as rotate, crop and deletion, to name a few. The "new document" button has also been changed to "start again" in order to erase confusion about the fact that new document will, in fact, erase all your current scanning progress.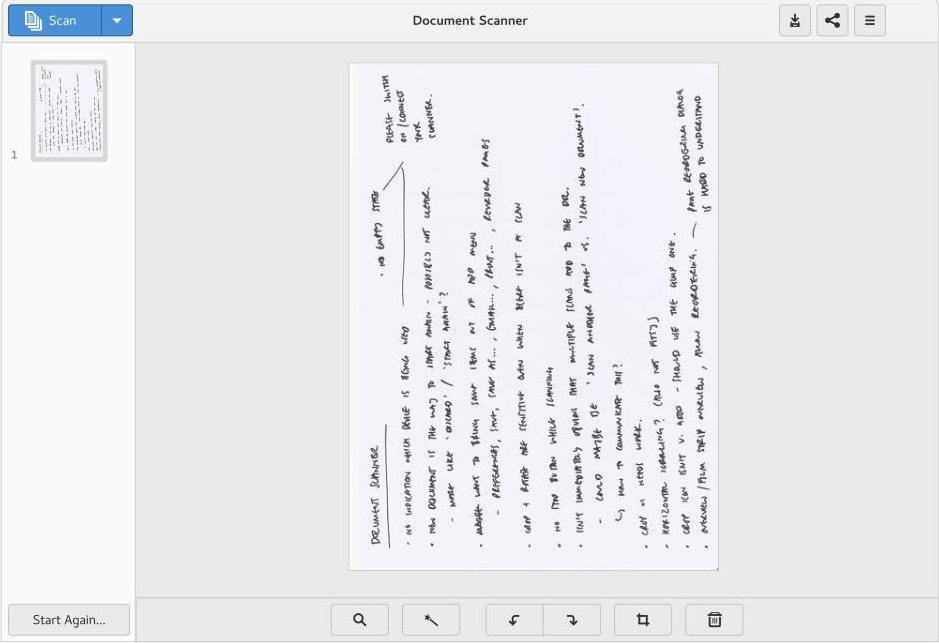 Image Credit: https://blogs.gnome.org/aday/
There will also be a reworked preferences/settings pane, which in true GNOME 3 app design protocol, will be more streamlined and making use of highly identifiable widgets such as contrasting buttons, select boxes and sliders depending on the type of setting. In the redesign, brightness and contrast settings for the app in particular will use a visual cue mode where you select test samples with varying contrasts and brightness similar to some of the brightness and contrast selectors you may see, for example, at the start of some computer games.
Finally, the redesign does show new buttons for functions such as OCR test reading and editing, zoom and magic enhancement, all of which are currently not actually implemented in Simple Scan. Allan says he's not currently aware of anyone lined up to implement the functions at the time of his writing, but if anyone wishes to take a shot at helping out, by all means do so.
See Allan's blog post for more information and screenshots. All in all, if the app awaits some extra functions before the facelift takes place, we mightn't see the "new" Simple Scan for a little while yet, but for this writer, it certainly looks like some nice improvements to an already very useful and loved application.
---